Map & Directions to: Small Family Farm in Yorkana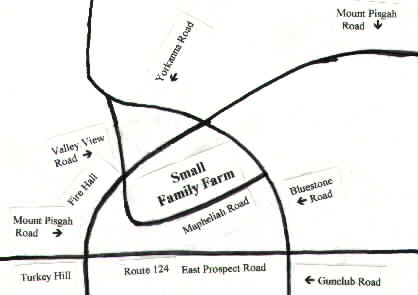 DIRECTIONS:
From York: Rt. 83 take the Mt Rose & East Prospect exit new exit number 18. Go East (heading away from York City) on Rt. 124, East Prospect Rd. Proceed 5 miles on East Prospect Road to the Turkey Hill Mini Market on the right. Turn LEFT at the traffic light entering the town of Yorkana. Once in Yorkana, you will see the fire station on the left, 2 houses after the fire station there is a small intersection. Turn RIGHT onto Mapheliah Rd. Proceed a third of a mile to 62 Mapheliah road, a white farm house with red barn on the LEFT with signs out front.

From Lancaster: Rt. 30 to York County take the Wrightsville exit (first exit after bridge) turn LEFT at the end of the exit ramp heading to Wrightsville. At light proceed FORWARD onto Cool Creek Rd. go about 1 1/5 miles turn RIGHT onto Mt. Pisgah Rd. Go 2 1/2 miles turn LEFT onto Bluestone Rd. Proceed about a block turn RIGHT onto Mapheliah Rd.(if you get to a cemetary you missed Mapheliah Rd.) Continue on Mapheliah Rd. to #62, white house with red barn on right.